NDWA Worker Newsletter
Spring 2022
Happy Spring! As the weather warms up and the flowers begin to bloom, many of us are also feeling a renewed sense of excitement about our movement and all that we can accomplish together. We have been taking action all across the country, both digitally and in person. Thousands of us have called Congress demanding that they invest in the care economy. And recently 100 domestic workers traveled to Washington DC to build support for our National Domestic Workers Bill of Rights, while hundreds more of us amplified that message by calling Congress from all around the country. We've attended online and in person actions and activities, supported and advocated for each other as the pandemic goes on, and have built community despite the many challenges we face. 
And over the past few months, since our last newsletter, hundreds of you have joined as dues paying members of our alliance, building a stronger movement into the future! Our alliance is the home for all house cleaners, care workers, and nannies, and we are here for each other in good times and bad.
Here's what's included in this newsletter:
Stay in the Loop
Please continue to keep an eye on your texts for ways to be in community, get the latest information on all we're doing, and find out how you can be involved. If you're not on our broadcast text list and getting all of our event and online meeting invites, text WORKERS to 33843 to get the latest! And please tell all your domestic worker friends to join the text list as well.
Take Action to Win the National Domestic Workers Bill of Rights
The National Domestic Workers Bill of Rights, introduced in the U.S. Congress in 2019, is national legislation that includes domestic workers in many essential workplace laws for the first time, while creating new protections and stronger ways to enforce them. This spring we're ramping up our campaign, encouraging more and more members of Congress to co-sponsor the Bill. 
This legislation is coming at a critical time for working women. The pandemic not only showed us how essential care is to keep our society and economy going, it highlighted the precarious nature of work that domestic workers, disproportionately composed of Black, Latinx, Asian, and Indigenous women and immigrant women, face everyday. 
The Bill covers three major gaps in protecting domestic workers in the workplace by: 
Including domestic workers in workplace protections

like paid overtime, paid sick days, safe and healthy working conditions, meal & rest breaks, and freedom from sexual harassment

Creating new protections to address the unique challenges of domestic work:

written agreements, fair scheduling, a new standards board and support for survivors of sexual harassment

Ensuring that rights aren't just on paper, but that they can be enforced and implemented:

 Know-your-rights information, mechanisms against retaliation 
On May 11th, a delegation of 100 domestic workers traveled to DC to make sure our representatives know just how important and urgent it is for them to pass the Domestic Workers Bill of Rights. We had over 40 meetings with Congresspeople and their staff and had a powerful rally with some of our most committed partner organizations. Meanwhile, over 950 of us called our Members of Congress from all around the country to amplify that message. No matter where we are, we're all a part of this campaign to win new rights and dignity! 
Check out these photos to get a glimpse of how domestic workers built our power to win in DC.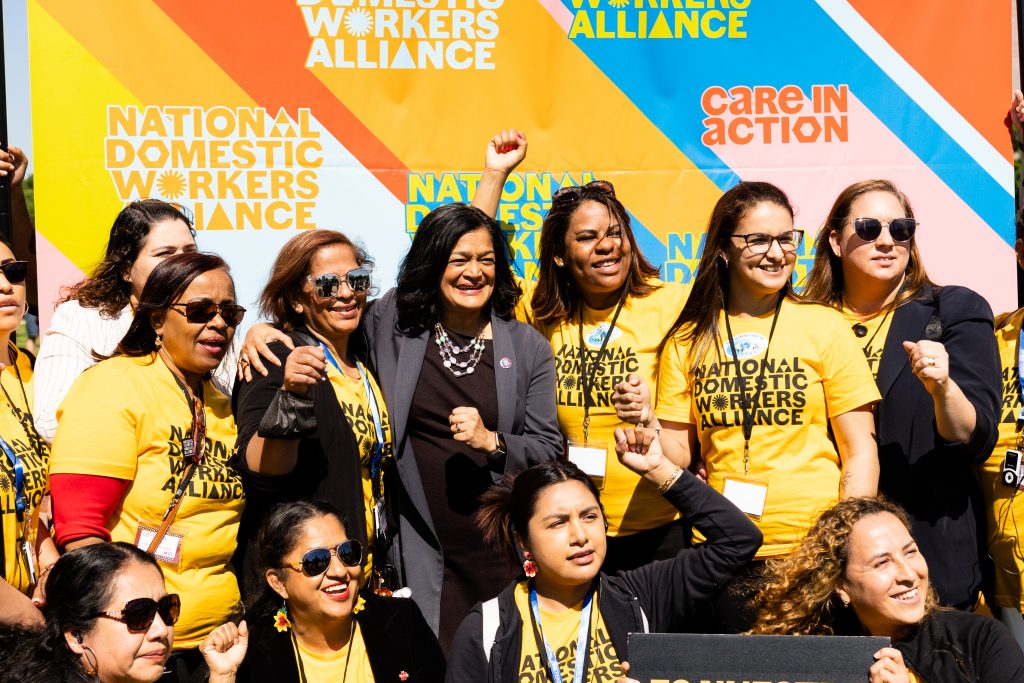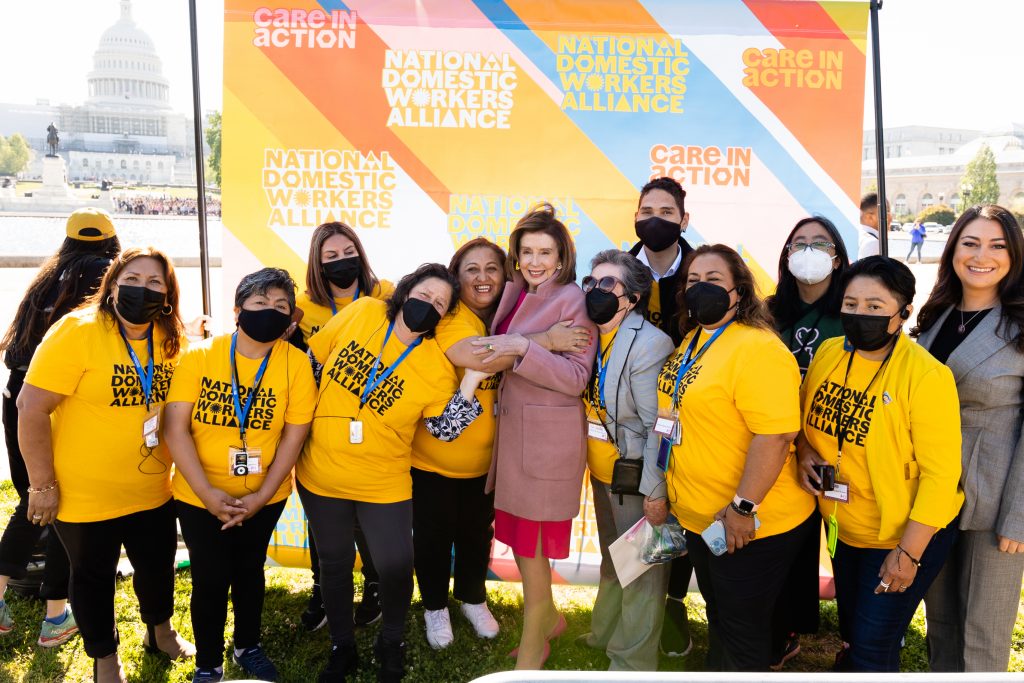 It might take years to win this campaign and make the Bill a law, and we're going to need YOU to take action so we can get there. Stay tuned for more ways to get involved. 
Updates from We Dream in Black Spirit Week
At the end of April, We Dream in Black celebrated Spirit Week, a week of online actions to build community and build our movement. If you missed it, don't worry, we'll be back next year! We Dream in Black (WeDiB) is an initiative of the National Domestic Workers Alliance and is the organizing home dedicated to the experiences and voices of Black domestic workers. If you are a Black domestic worker, We Dream in Black is for you and you can sign up to get WeDiB updates by texting BLACK WORKERS to 33843.
Congratulations to the Graduates of the We Make History Course!
Over the past year, hundreds of members of NDWA, our affiliates and chapters have taken part in We Make History, a 30-hour course on domestic worker organizing history and NDWA's core strategies to make domestic work good work. On Saturday, May 7th, we held a virtual graduation ceremony for the 400+ domestic workers who completed the course this year. Congratulations, graduates! Through your hard work and commitment, you are making our movement stronger! To learn about domestic worker history, visit www.domesticworkers.org/history.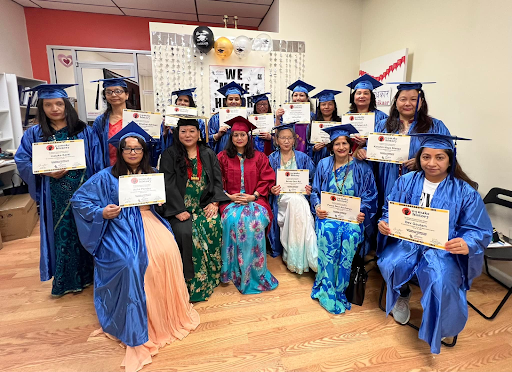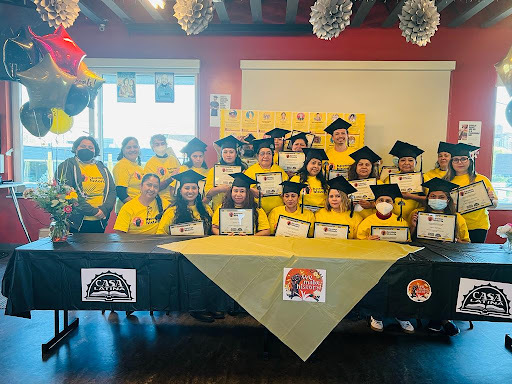 News from our Chapters
Our chapters have been BUSY organizing workers and raising standards! In Philadelphia, Black domestic workers created a brand new We Dream in Black chapter. Workers there also just celebrated the two-year anniversary of the Domestic Workers Bill of Rights, and are now focused on making sure all domestic workers in the city know about their rights, and how to enforce them. In D.C., workers are getting ready to introduce a Domestic Workers Bill of Rights into City Council – and in New Jersey, workers are pushing forward a statewide Domestic Workers Bill of Rights! In New York City, the chapter is focused on making sure all domestic workers know about the new rights they have recently won, like inclusion in the city's Human Rights Law. In California, the South Bay Chapter is continuing to fight for health and safety for domestic workers through outreach and education. In Houston, the chapter is focused on ensuring that Domestic Workers have a seat at the table and they are excited to be a part of the first essential worker board in the country. In North Carolina, workers are getting ready for the upcoming legislative session and raising their voices for increased and continued investment in long term care and child care. On the ground, they are making sure home care workers know about and are receiving the wage increases that were passed in the budget last year, and developing a new organizing committee of family child care providers statewide. In Georgia, the chapter played a part in creating and passing Georgia HB 1390, which provides workplace protections against sexual harassment and discrimination for city and county workers. They also just completed an Embolden apprentice training program, and are now starting our robust voter registration program.
NDWA Leadership Expansion Announcement
NDWA's leadership is expanding! On April 22, 2022, we officially and formally announced that Jenn Stowe joined our movement as NDWA's Executive Director, while Ai-jen Poo remains a part of our fight as President of the organization. Together, Jenn and Ai-jen will continue building a robust, multi-racial movement alongside domestic workers and our supporters. Both Ai-jen and Jenn have a lifelong commitment to building up and supporting the leadership of domestic workers, and are excited to continue connecting with and learning from NDWA members. If you're a dues-paying NDWA member, remember that you can join Jenn and Ai-jen directly at our member meetings each month, to share ideas on how we can win together.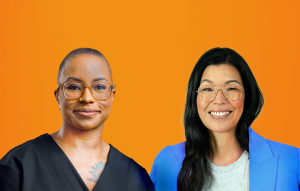 Get Support to File Taxes and Get your Refund
Tax day was April 18th, but if you haven't filed your taxes yet, you still can and should! We have a partnership with a nonprofit organization, Get Your Refund, that will help you file your taxes for free and make sure you get your full refund. We've already helped thousands of domestic workers take advantage of this resource, but if you haven't yet, just go to getyourrefund.org/ndwa to get started.
Become a Dues-Paying NDWA Member
Interested in becoming a member? Membership costs only $5 per month, or $60 per year. Your membership dues will support our organizing to make domestic work good work. Dues-paying members have the right to participate in special member-only consultations that shape the direction of our campaigns. In addition, members have access to member benefits like life insurance, discounts on vision and dental services, movie and entertainment deals — and more! Now more than ever, domestic workers need each other. Together we are building a world where your work will be recognized and valued. JOIN NOW!
Dues-paying Members' Corner
Welcome to our new Membership Manager
Welcome to Inti Ossio, our new Membership Manager! Inti will be supporting members to access their benefits, leading programs for dues-paying members, and leading campaigns to bring more members into NDWA. She also coordinates our National Worker Ambassador Team–our talented member leaders who are standing by to provide support and answer members' questions. If you have any questions about your membership, reach out to our Membership Team by sending an email to [email protected].
Spotlight on our Prescription Discount Benefit
Have you tried our prescription discount benefit? Here's what Adriana, a member from Washington State has to say about it! "I decided to pay my dues so that I could learn to fight for my rights with NDWA and belong to this great organization. Since then, the membership benefits have helped me a lot. I need a lot of medications that regularly cost $210 each. I don't have insurance through work so this used to be really difficult for me. But with the membership discounts I now pay $10.99 every month. I have saved a lot of money and I'm able to get my medication, thanks to my NDWA membership."
To access this and your other member benefits just go to https://membership.domesticworkers.org/membership-center/, click on Manage Your Membership and enter the email address you used to sign up. Then check your email for a link to access your benefits, download your NDWA member packet, get a copy of your membership card and more.
Member-Only Events
Dues-paying members are invited to monthly meetings with Ai-jen and Jenn. We are also holding new member orientations the first Tuesday of each month. If you missed the last orientation or want a refresher, you can watch this video about NDWA and what it means to be a member: domesticworkers.org/welcome and this one about your member benefits:
domesticworkers.org/benefits