NDWA Worker Newsletter
Spring 2021
May 2021
The past year has been a challenging one for many of us. But even in our pain, we've come together to support each other and build our collective power. We've shown that domestic workers are essential for strong communities and a strong economy–and that we have a vision of good jobs and care for all. We're gaining momentum and we're ready to win! 
Here's an update on what NDWA has been up to over the past few months, and a preview of what's to come, including:
For years, we've been demanding that care be treated as vital, essential work. And now our efforts are paying off! In March, President Biden announced that his American Jobs Plan includes a $400 billion investment in Medicaid for home and community based services. This is the first time a U.S. president has acknowledged that care is critical infrastructure, as vital to communities as roads, bridges and schools! This is a major accomplishment, and it's thanks to the hard work of domestic workers like you–making thousands of phone calls, telling your stories, signing petitions and more!
Then, as part of his weekly national address series, President Biden talked with homecare worker and NDWA member, Susie Rivera! Susie lives in Texas and has worked as a careworker for over 40 years. She's on the board of the eQuality HomeCare Co-op, an NDWA affiliate. While this clip is only 2 minutes, Susie and the President talked for close to 30 minutes.
Our nation's caregivers have been undervalued for far too long — and it's time they receive the pay and benefits they deserve. I sat down with Susie from Texas to discuss how the American Jobs Plan will help caregivers like her. pic.twitter.com/V2jhtiS7PN

— President Biden (@POTUS) April 17, 2021
Now we're pushing Congress to support the American Jobs Plan, especially $400 billion for homecare, with fair wages and benefits for homecare workers–as well as a path to citizenship for immigrant homecare workers as part of our economic recovery. There is so much more work to do, and we're in sprint mode on this campaign! Be on the lookout for a lot more calls to action over the coming weeks and months. We need to keep the momentum going so that we can win!
Together with our coalition partners in the We Are Home Campaign, NDWA is working hard to lift up the message that immigrant workers are essential and we need a pathway to citizenship for all.
On May 1st, International Workers Day, thousands of domestic workers took to the streets in over 25 cities and also made our voices heard through online events. We came together to demand that immigrants be included in our nation's economic recovery, and that the immigration system be rooted in justice and welcoming. 
We also participated in Eye on ICE Truth and Accountability Forums, including a collaborative forum jointly produced by NDWA's We Dream in Black program and Women Watch Afrika. We're exposing unjust immigration enforcement practices, laying out solutions for a free future, and showing how immigration is a Black issue and one that impacts all domestic and care workers.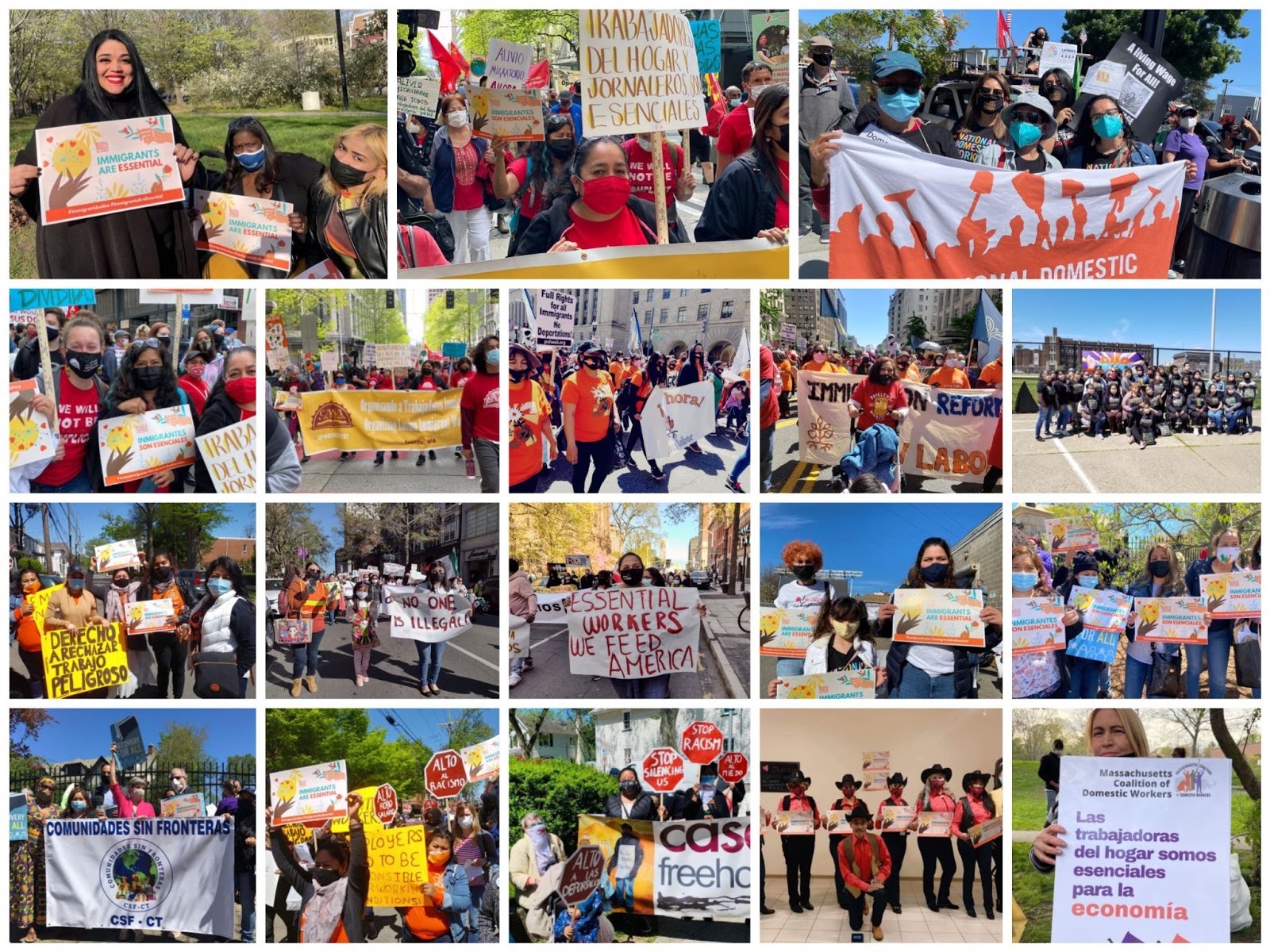 Decades ago, domestic workers were written out of some of the most important workers rights laws in the U.S. And ever since then, domestic workers have been organizing for inclusion in these rights, plus new protections that specifically address the challenges of domestic work.
Our best way of doing this so far has been to win Domestic Worker Bills of Rights at the state and local levels. And we're on a winning streak! We've won in 11 states and 2 cities! Our most recent win was just a couple of months ago in Virginia. Congratulations to domestic workers and the broad coalition in Virginia who brought home this win–the first Domestic Workers Bill of Rights in the South!
Now we're working to win a national Bill of Rights that would cover workers all over the US. In 2019, the first-ever Federal Domestic Worker Bill of Rights was introduced in Congress. We have been building momentum ever since, but we haven't won yet! Each time a new Congress is elected any Bills that haven't been passed into law need to be reintroduced. That happened last November, so our Bill needs to be reintroduced this Summer. 
Before the reintroduction, we consulted with members of NDWA and NDWA affiliates to make sure the bill includes all the things we need it to include, and to see if there's anything that needs to be updated. We're excited to announce that 2,406 members completed our survey, and contributed valuable input, ideas, and perspectives! That input will shape our campaign as we move forward. 
Stay tuned for news of how you can be involved when the Bill of Rights is reintroduced this Summer. And then our campaign will ramp up in the Fall with lots of opportunities to take action together to win!
NDWA chapters and affiliates have been busy this Spring! Here are a few highlights.
The DC-Maryland-Virginia Chapter and affiliate Dreamers Mothers in Action mobilized hard to win the VA Bill of Rights, and also to win paid sick leave for some care workers. The Chapter has also been laying the groundwork to win a DC Domestic Worker Bill of Rights! 
In New Jersey, NDWA members and affiliate organizations – Adhikaar, Casa Freehold, New Labor, Unidad Latina en Acción, and Wind of the Spirit – are laying a strong groundwork for a successful Domestic Worker Bill of Rights campaign, and have expanded their Coalition to include 40 local organizations!
In New York, the NY NDWA Chapter, NDWA affiliates Adhikaar and Carroll Gardens Association organizations, Hand in Hand the Domestic Employers Network, and many other partners launched the NYC Care Platform to educate NYC City Council Candidates and Mayoral Candidates about issues important to NYC care workers and all those that need a care infrastructure in NYC. They are also campaigning for domestic workers to be included in the New York human rights code. And over the past year, the NY Chapter's Enforcement Program helped recover over $285,000 in stolen wages for domestic workers! 
In California, the California Domestic Worker Coalition launched the campaign to win SB 321, a bill that would extend existing health and safety protections to include domestic workers. 
In North Carolina the NDWA-We Dream in Black chapter has launched campaigns to raise wages for direct care workers, to increase funding for child care to stabilize the field and improve compensation for childcare providers.
In Philadelphia, the NDWA Chapter created a member leader vaccine subcommittee to identify barriers to COVID-19 vaccination faced by domestic workers. This member-led group pushed Philadelphia city officials to reserve vaccination spots for domestic workers and supported 500 domestic workers to get the vaccine!
In Houston, the NDWA-We Dream in Black chapter and NDWA affiliate Fe y Justicia Worker Center worked together with other coalition partners to create bylaws and workplace safety guidelines for a new county-level Essential Workers Safety Board.
In New Mexico, El Centro de Igualdad y Derechos provided leadership for the campaign to win a new paid sick leave bill last month. The bill covers ALL workers, regardless of the number of employees in the workplace, including part-time and temporary employees and workers who have multiple employers. This is a huge win for domestic workers in NM!.
And around the country, domestic workers are developing our skills to lead in our own local organizations and nationally. For example, members of the Georgia NDWA-We Dream in Black Chapter are leading skill-building trainings for the rest of the Chapter.   
Are you a dues-paying member of NDWA yet? If not, we welcome you to join! 
Dues-paying members keep our organizing going strong by contributing $5 monthly membership dues. Members have special opportunities to shape our campaigns by participating in member consultations–like the one this spring on our Federal Domestic Workers Bill of Rights–and have opportunities to develop new skills and play many important leadership roles in our alliance. Members also have access to a benefits package that includes life insurance, discounts on healthcare products and services, and more. If you're not a dues-paying NDWA member yet, visit membership.domesticworkers.org to sign up!
Member-only video meetings:
Dues-paying members receive invitations to special events, like monthly video meetings to get updates and share ideas with our Executive Director Ai-jen Poo! These meetings are in the evenings on the 4th Tuesday of every month. The next one is May 25th. If you are a dues-paying member, you'll get a text with the link to join.
Thursday evening webinars, open to all domestic workers:
All domestic workers are welcome to join us for our twice monthly Thursday Evening Domestic Worker Webinars. The webinars are a chance to learn more about our work, learn new skills, and connect with others in our alliance. Sign up here and you'll receive a text with information on how to join the next call.
NDWA is committed to providing trusted information to domestic workers about the COVID vaccines, and ensuring fair access. Check out the vaccine page on our Coronavirus Resource Center for information and answers to frequently asked questions: https://membership.domesticworkers.org/coronavirus/coronavirus-vaccine. And if you missed our recent webinars featuring doctors and public health experts talking about vaccines, you can find the recordings on our Facebook page: https://www.facebook.com/domesticworkerscreating.
***
Congratulations to all of you–the thousands of nannies, home care workers and housecleaners who are part of NDWA! You have done SO much this Spring and have made great leaps toward the day when all domestic work will be fully recognized, valued and supported. Our movement is powerful because of you!