Fighting for housing rights!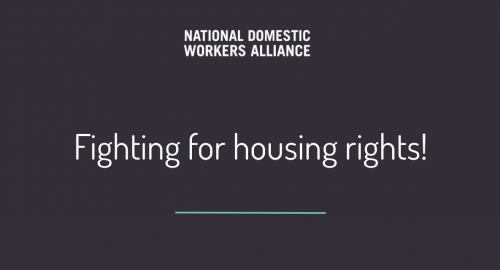 WHERE CAN I FIND A LAWYER OR LEGAL ADVICE?
Legal Services Corporation

: (20+ languages) Database of 134 independent nonprofit legal aid organizations in every state, the District of Columbia, and U.S. Territories.
LawHelp.Org: (

Eng/Esp). Lists answers to simple legal questions and affordable or free legal services by state.
HOW DO I FIND OUT IF THERE IS A MORATORIUM ON EVICTIONS/FORECLOSURES IN MY AREA?
National Low Income Housing Coalition

: (English) Lists emergency housing laws by state and has a database of multifamily properties covered under the federal moratoriums provided under the CARES Act. )
Anti-Eviction Mapping Project:

(English) Presents an interactive online map of covid-19 emergency tenant protections & rent strikes across the world. 
HOW DO I FIND A HOUSING GROUP IN MY STATE?
National Fair Housing Alliance:

Has a list of active housing organization by state in AL, AZ, CA, CO, CN, CT, Washington D.C, FL, GA, ID, IL, IN, KY, LA, MD, MA, MI, MO, MT, NE, NJ, NY, ND, OH, OK, OR, PA, TN, TX, VA, WA, WI.
Homes For All:

Lists national organizations that are fighting for fair affordable housing and tenants rights in the following states: AZ, CA, CO, FL, GA, IL, KY, MD, MA, MI, MN, MO, NE, NJ, NM, NY, OR, PA, RI, TN, TX, WA.
I NEED TO WRITE A LETTER TO MY LANDLORD, CAN YOU HELP?
Augrented:

Has a letter template to help you talk to your landlord

about rent during the Covid-19 crisis. Create a letter to request time to pay, a discount, or rent waiver.
WHAT STATES CURRENTLY HAVE AN EVICTION MORATORIUM?
As of April 30, 2020 the following states have or are scheduled to pass a moratorium on evictions:
Connecticut

Delaware

Indiana

Kentucky

Maryland

Massachusetts

Minnesota

New York

New Jersey

North Carolina

Pennsylvania

South Carolina*

Texas*

Virginia*

Washington
* indicates states where a evictions will be paused by the state judiciary
Based on the National Low Income Housing Coalition.