NDWA Worker Newsletter
Spring 2023
Happy Spring! It's been a busy few months here at NDWA. We have been taking action all across the country in support of care and care workers, and our efforts have been honored at the White House. It's an exciting time to be a domestic worker and standing up for our rights and our profession!
Read below to see what we've been up to and how to take action!
Stay in the loop
Please continue to keep an eye on your texts for ways to be in community, get the latest information on our work, and find out how you can be involved. If you're not on our broadcast text list and getting all of our event and online meeting invites, text WORKERS to 33843 to get the latest! And please tell all your domestic worker friends to join the text list as well.
Care Workers Can't Wait Summit
The foundation of a strong economy is a strong care economy – and the beating heart of the care economy are care workers. Our country needs more care than ever, but the care workforce is in crisis. Each year, four million children are born, and another four million turn 65. We simply can not wait to transform the care landscape.
That is why on April 18th and 19th, hundreds of care workers from across the country descended on Washington D.C. to sound the alarm and show us the way forward. The inaugural Care Workers Can't Wait Summit was a historic convening of workers from throughout the care economy – childcare, aging and disability care, and all direct care – joining together with one voice for change.
We hosted plenary discussions about our experiences and challenges as care workers, the power of unions, the future of care, and more. We also heard from Senator Bernie Sanders and Senator Bob Casey about the child care and home care crisis happening all around us. 
It was an amazing and powerful two days, and we know the White House is listening to us!
President Biden's Executive Actions
President Biden signed the first-ever proclamation designating April as National Care Worker Recognition Month.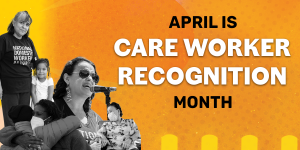 Shortly after, the Biden-Harris administration announced an executive order with over 50 directives to strengthen our care infrastructure. The executive order works to make child care and long-term care more accessible and affordable for families, improves access to home-based care for veterans, improves jobs for early educators and long-term care workers, supports family caregivers, advances our rights as domestic workers, and more!
We are grateful for the support, and we will continue to organize to win more!
Updates from our chapters and other work
Happy 5 years to the DMV chapter! In March, the NDWA DC/Maryland/Virginia (DMV) Chapter celebrated its 5-year anniversary since its launch. They celebrated with a party for chapter members, their families and allied organizations in DC. The party also celebrated the passage – in December 2022 – of the Washington, DC Domestic Worker Bill of Rights! For more than 4 years, domestic workers leaders in DC organized and advocated with the DC Council to demand that they pass this bill. Previously, domestic workers were the only group of workers excluded from DC's Human Rights Act. This new law will guarantee that domestic workers receive human rights protections, which protect workers against employment discrimination on the basis of race, sex, national origin, age and many other characteristics. The law also gives domestic workers occupational health and safety protections for the first time, guarantees every domestic worker the right to an employment contract with their employer and creates a new program to help domestic workers know and access their rights. Washington DC is the 13th jurisdiction in the country to pass a Domestic Workers Bill of Rights, which you can read more about here. Congratulations to all the members, organizers, and other domestic workers in the DMV chapter!
PA Chapter: The PA Chapter is hard at work defending their rights – and organizing to win new ones! They have launched a campaign to win a new anti-retaliation law in Philadelphia to protect ALL workers and their member leader Organizing Committee is leading the way by surveying hundreds of domestic workers about their experiences, gathering worker testimonies, and brainstorming solutions to employer backlash against workers standing up for themselves. 
In addition, the PA Chapter has graduated 13 leaders from their 3 month paid worker leader program, OLA (Organize, Lead, and Amplify). They are also working to support domestic workers in filing complaints against abusive employers and educating them on how to enforce the Domestic Workers Bill of Rights on the job through contract negotiations workshops and Know Your Rights trainings. 
NY Chapter: The NY chapter is currently campaigning with the NYC Domestic Work Coalition for city council to fund outreach and education of worker rights. 
Every second Wednesday of the month they host Zoom meetings for different domestic sectors – they have a house cleaner, nanny, and home care worker committee. And on the second Saturday of the month, the We Dream in Black chapter meets on Zoom as the organizing home of Black, Afro-Latina and Afro-Descendant domestic workers in the city. They also host a workers' rights legal clinic, worker-led workshops and programs, and monthly office hours where you can meet the organizing team in person!
NC Chapter: The NC chapter just had an incredible statewide mobilization for their child care investment campaign with early education coalition partners. More than 350 people showed up to the lawn in front of the state legislature to demand investment in child care and recognition of the important work providers do. Chapter members put on an engaging program around the issues and invited other workers to speak out. Afterward, they met with representatives from their districts to educate them about needed investment in child care and get their commitment to include it in the upcoming budget. This was a historic mobilization for child care, and it was just the beginning!
The chapter is also continuing to fight for investment in home care and enforcing the wage increase they won for home and community based care workers who serve medicaid clients. If you work in home care in North Carolina, take their survey to let them know if you saw your raise so they can continue their investment fight and win more funding in the field.
Houston Chapter: This year the Houston chapter introduced a bimonthly in-person meeting schedule. The chapter was founded during the height of the pandemic so had not traditionally had in-person meetings, so this is a huge deal!
Members of the Houston chapter are staying busy and active: Kara Levy was elected as the leader of Harris County Essential Workers Board, and she and Rivi Mitchell attended the executive order signing at the White House.
On May Day the chapter held the first Care Worker Advocacy Day at the State Capitol in partnership with Every Texan, NDWA Texas affiliates, and other organizations.
New Jersey: New Jersey's campaign for a statewide Bill of Rights for domestic workers is gaining steam! And they're working hard to pass it before the state legislature goes on recess on June 30th. Sign this petition to get them across the finish line.
Georgia Chapter: The Georgia Chapter has launched a campaign to win more investment in home care to increase worker wages and access to workforce development training. They are increasing their efforts to reach out to and connect with home care workers and voters in the state.  
South Bay Chapter: The NDWA South Bay Chapter has been busy these last few months. Their monthly member meetings are back to being in person. They are rich with connection, education and enjoyment. At two of their monthly meetings, they've had the opportunity for worker leaders to facilitate our educational workshops. Both of these workers were part of the chapter's Leadership Development Program last year. The record-keeping workshop they shared in English and Spanish, respectively, was thanks to training through the California Domestic Workers Coalition (CDWC). 
We Dream in Black: In addition to our Monday Night Lives and Orientations, We Dream in Black is hosting "We Make History," a series of workshops about the roots of domestic work and the systems of oppression that shape conditions for domestic workers, the core strategies used by domestic workers to raise labor standards and build an economy and democracy that work for all of us. Twenty-five We Dream in Black members are participating in the cohort which is led by four facilitators and will run from March – November 2023.
Become a dues-paying member!
Interested in becoming a member? Membership costs only $5 per month, or $60 per year. Your membership dues will support our organizing to make domestic work good work. Dues-paying members have the right to participate in special member-only consultations that shape the direction of our campaigns. In addition, members have access to member benefits like life insurance, discounts on vision and dental services, movie and entertainment deals — and more! Now more than ever, domestic workers need each other. Together we are building a world where your work will be recognized and valued. JOIN NOW!