2022 End of Year Highlights
Winter 2022
2022 was a year of tons of work and leadership from domestic workers in national and local campaigns, training and leadership development programs, innovative strategies for organizing, and more! We are excited to share some of the achievements of our Alliance and movement from this past year.
Here's what's included in this newsletter:
NDWA 15th Anniversary and National Congress
2022 marked NDWA's 15th anniversary! Thanks to the hard work, vision and dedication of thousands of domestic workers like you, our alliance has been growing in numbers and in power since 2007. Together, we are winning rights and dignity for domestic workers and advancing toward a more just economy and democracy for us all.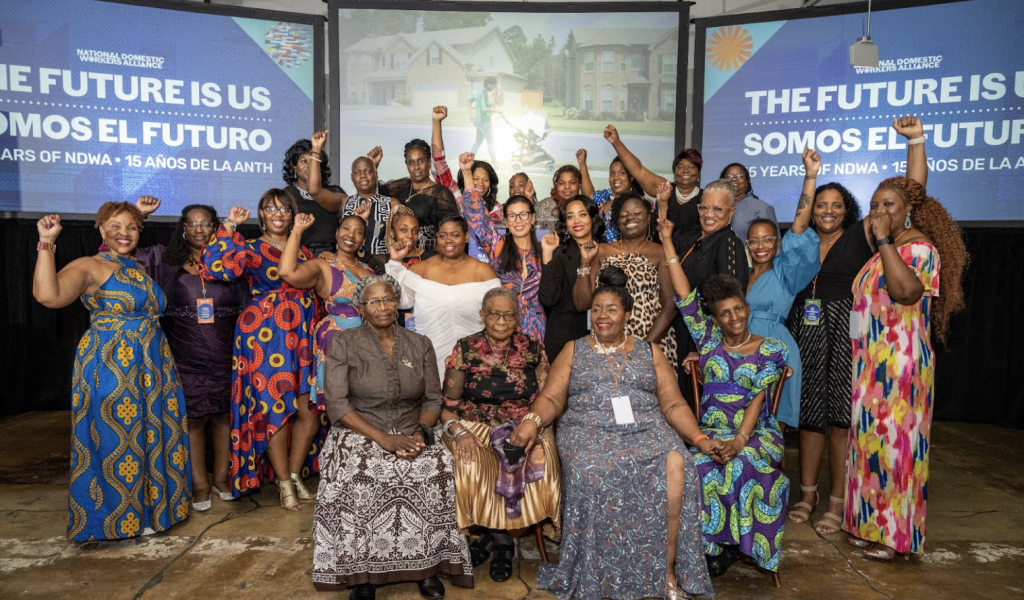 On September 16-18, 150 representatives of NDWA's Affiliate Organizations and Chapters, members of our national Worker Councils and our Board of Directors traveled to Washington DC to mark the occasion. In addition, more than 1,000 domestic workers participated via livestream from all around the country! Following the 15th anniversary celebration, we held our National Congress to strategize, learn, and plan together, and to elect our next Board of Directors.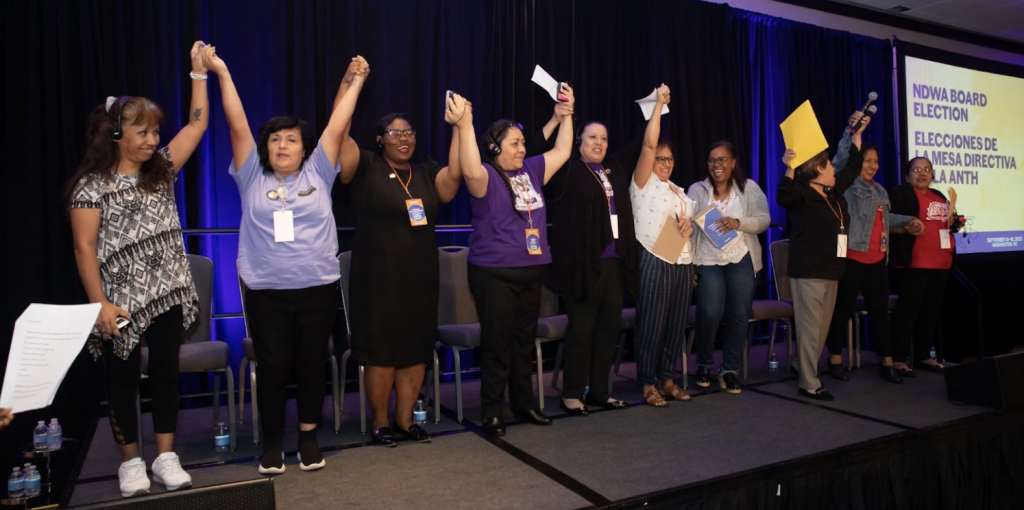 National Campaigns
2022 was a year of a lot of work and leadership from domestic workers in national campaigns! Since last year we have been fighting to win an investment in homecare and care workers, and a path to citizenship for millions of undocumented people who contribute to this country every day. During the first half of the year, we organized marches, rallies, press conferences and meetings with Congresspeople, together with the Care Can't Wait and We Are Home campaigns. And on May Day, we marched – in Washington, DC and in cities around the country – to demand that Congress and President Biden do all they can to deliver justice for immigrant communities.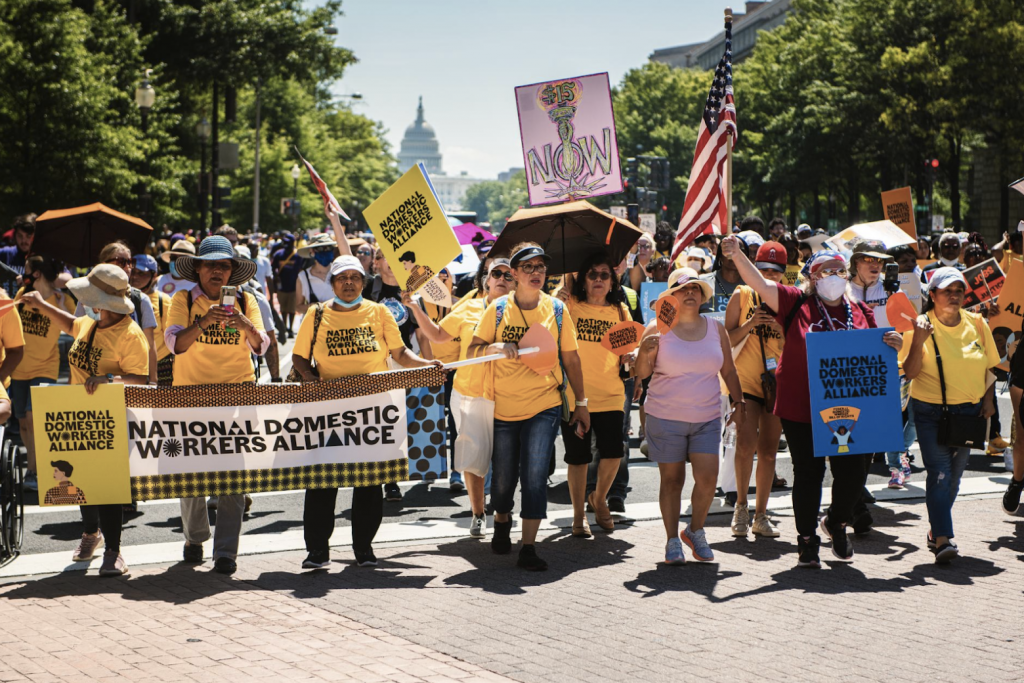 In August, Congress finally passed the budget reconciliation bill. Although it did not include our care and immigration priorities, it made historic advances for working families and the environment. And we've come a long way with our campaign to win investment in care, cultivating new champions for future care efforts.
Regarding immigration, we achieved important administrative changes, thanks to the efforts of many organizations and workers across the Alliance. We won new protections for immigrant workers exercising their labor rights. And the Families Belong Together campaign, along with various allies, successfully pressured the Biden Administration to end the "Remain in Mexico" anti-immigrant policy that attempted to close the border to people seeking asylum.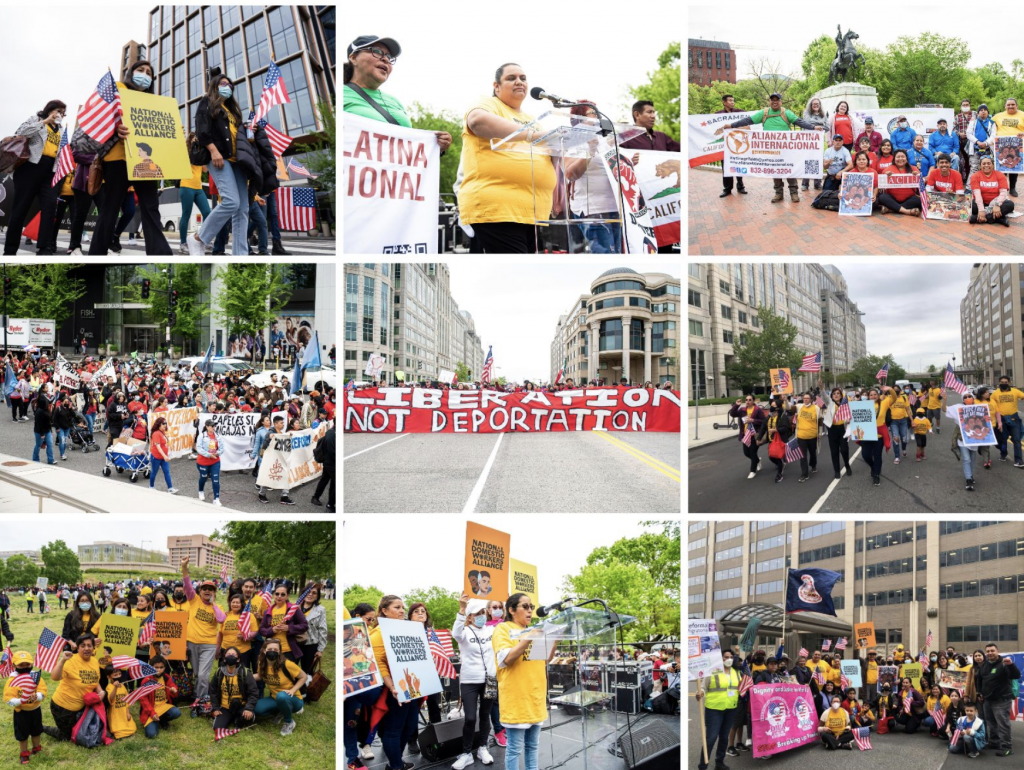 2022 was also an important year for our National Domestic Workers Bill of Rights. In May, 100 domestic workers from around the country came to Washington, DC to speak with 50 members of Congress and raise the visibility of our campaign with the public. As part of the event, We Dream in Black published a report called "The Other Side of the Storm," which documents the exploitation and precariousness faced by Black immigrant domestic workers, and presents the bill of rights as an important solution.
In July we had a hearing on our bill of rights in the House Committee on Education and Labor. This was a very important step in moving our bill forward, helping get more Congressional co-sponsors and showing the power of domestic workers! In 2023 we will continue to fight for our national bill of rights, focused on getting co-sponsors in the Senate, and fueled by all of this year's accomplishments. Thanks to all of you who raised your voices and joined the fight this year!
State and Local Campaigns
At the same time as we've been fighting hard to win for domestic workers nationally, our movement has been innovating, organizing, and winning policy change at the state and local level too. These are just some of the highlights of all the amazing work led by local domestic worker organizations this year.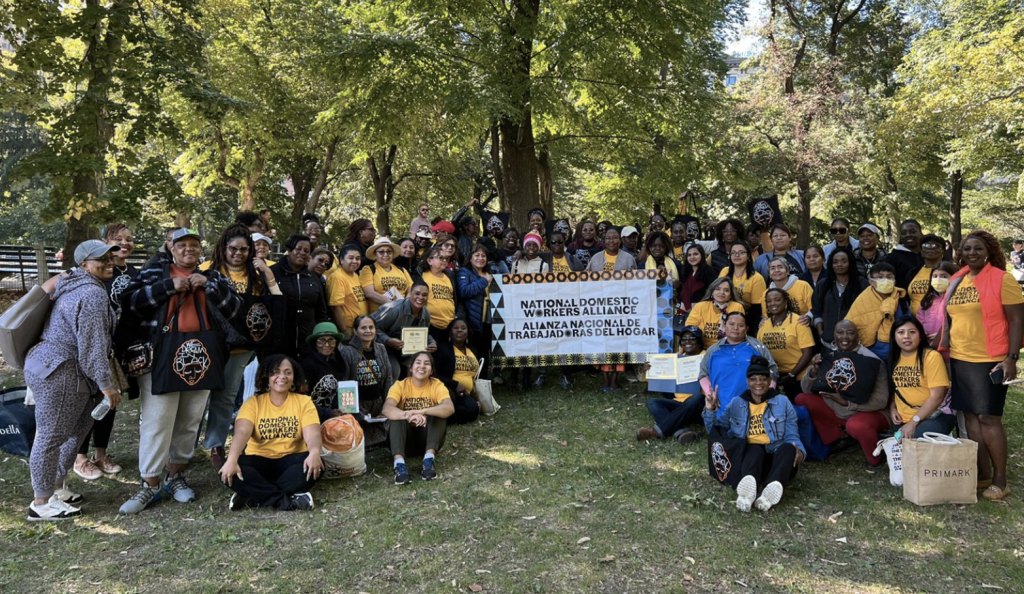 In New York City, the NYC Coalition for Domestic Work – with the NDWA NY Chapter, Adhikaar, Carroll Gardens Association, and Hand in Hand – won a new program in the NYC budget to fund local organizations for outreach and know your rights education to domestic workers and employers across NYC, allowing them to reach more people and grow the movement in NY.
Also in NYC, Damayan's Baklas campaign supported 13 Filipino domestic worker labor trafficking survivors to win T-visas, allowing them to stay in the US with permanent immigration status. Since Damayan's founding they have helped 70 survivors receive T visas.
In Connecticut, the Connecticut Worker Center, Comunidades Sin Fronteras, Naugatuck Valley Project, and Unidad Latina en Accion CT successfully completed the first year of a partnership with the CT Department of Labor to conduct outreach and education with domestic workers and employers in Connecticut.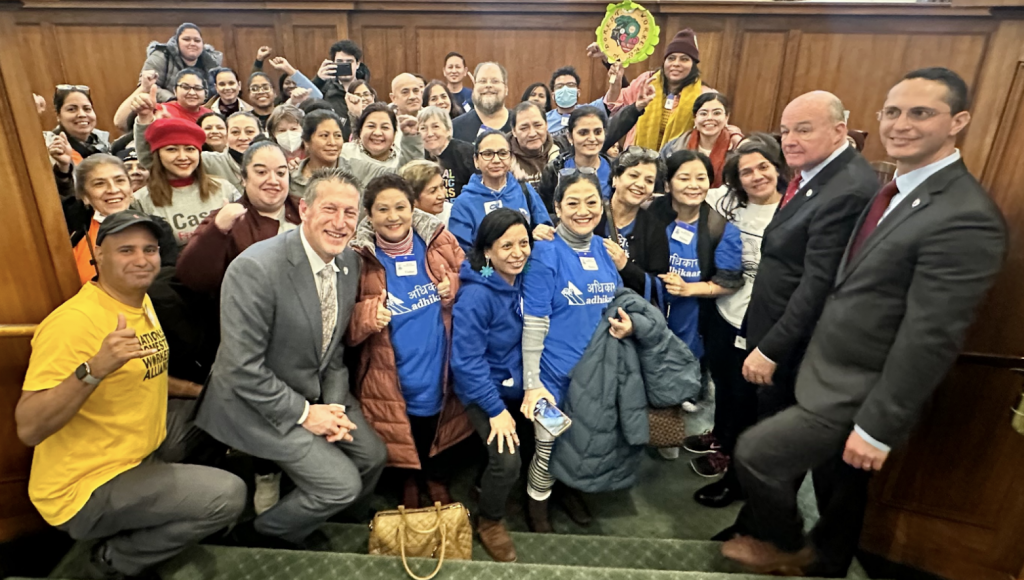 In New Jersey, the NJ Domestic Worker Coalition – with Adhikaar, Casa Freehold, Lazos America Unida, New Labor, Unidad latina en Acción NJ, and Wind of the Spirit – advanced the NJ Domestic Worker Bill of Rights by getting it passed in the Labor Committees of both the state Assembly and state Senate. They're moving ahead for a full vote and a win next year! 
In Washington DC, the NDWA DC/MD/VA Chapter is about to win the DC Domestic Workers Bill of Rights, with a final vote – that we expect to pass overwhelmingly – scheduled for December 20th! 
In Massachusetts, the Brazilian Worker Center, Brazilian Women's Group, Dominican Development Center, and Matahari Women Worker's Center were part of the coalition that won access to drivers licenses for undocumented Massachusetts residents, after a multi-year campaign, overcoming the Governor's veto and a ballot initiative that tried to overturn the law.
In New Mexico, on July 1st of this year – after a campaign led by El Centro de Igualdad y Derechos and other partner organizations – a new paid sick leave law went into effect, guaranteeing sick leave for all workers in New Mexico, including domestic workers and part-time workers! 
This year, many organizations focused on strategies to address health and safety issues faced by domestic workers. In Florida, after hurricane Ian, Women Working Together jumped into action to conduct outreach and education with clean-up workers with information about health and safety, and preventing wage theft and other abuses. And the California Domestic Workers Coalition, and affiliates, established a state health and safety commission and is working on recommendations to strengthen protections for domestic workers in California.
Several NDWA affiliates attended the Workers' Voice Summit, hosted by the Department of Labor – Occupational Safety and Health Administration (OSHA). Organizers and leaders made recommendations for strengthening health and safety protections for domestic workers and making sure government agencies enforce these protections. 
Finally, domestic workers played a critical role in getting out the vote in key states in the midterm elections. Members from the We Dream in Black chapters in North Carolina, Georgia, New York, and Houston – plus the DC Chapter, Pilipino Worker Center, PAWIS, and Mujeres Unidas y Activas – knocked on thousands of doors during GOTV weekend, reminding people to vote.
There are certainly more victories that we missed in this round up, but this is an incredible list of accomplishments from the domestic worker movement across the country this year!
Training and leadership programs for domestic workers
To achieve all that we accomplished this year – and to continue to win better conditions and justice for domestic workers – training and leadership development programs are key. This year thousands of domestic workers across the Alliance received leadership development, political education, history, organizing, and workforce development training.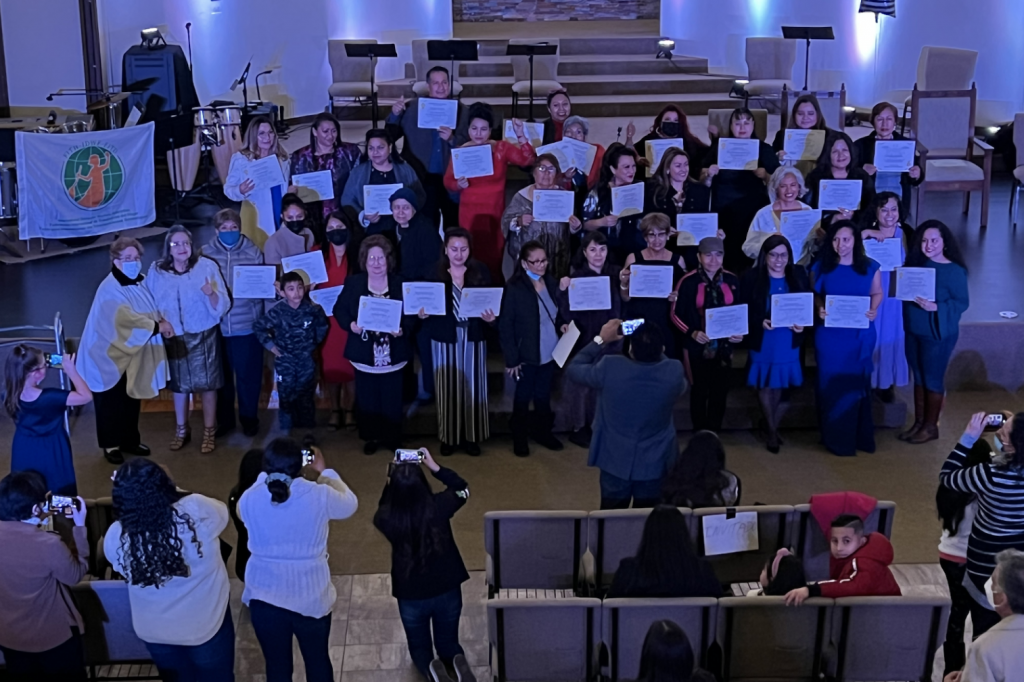 In May we celebrated the national graduation of the first generation of the We Make History course. More than 400 domestic workers from 32 affiliates and 7 chapters graduated from the course with knowledge of the history of domestic work and the strategies and strength of our movement. And throughout the year, 80 affiliate and chapter organizers have developed and strengthened their organizing skills in the Dignity Unity Power Institute.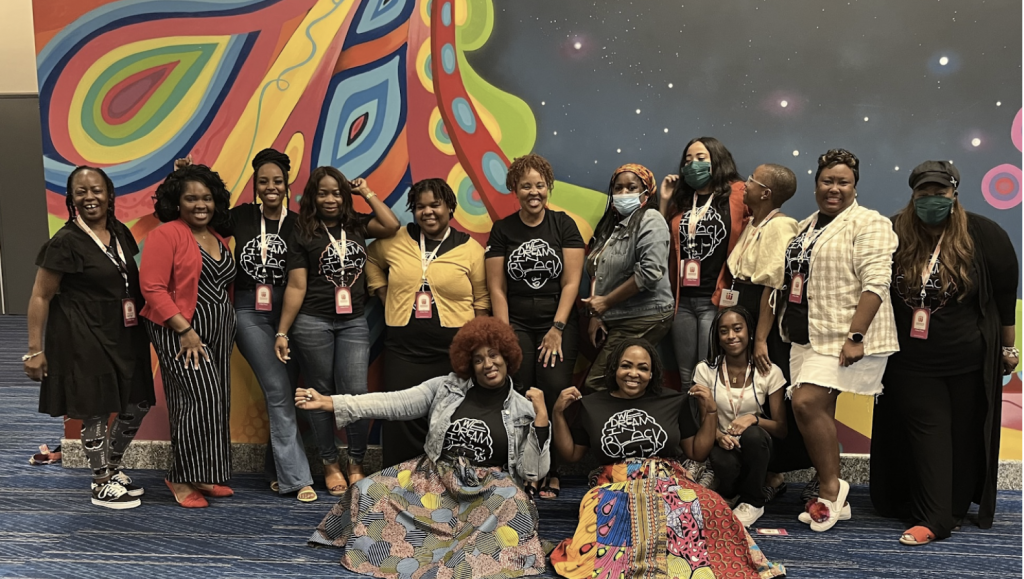 In August, We Dream in Black organized the Organizing Institute for Black Domestic Workers. This year the program focused on "Independent: The Black Domestic Workers Agenda" and was filled with workshops on various topics facilitated by domestic workers.
This year many organizations have launched trainings to support domestic workers to tell and share their stories as leaders. In Chicago, the organizations Arise Chicago, Latino Union, and AFIRE organized writers' circles where domestic workers learned how to write their own stories. Arise participants – 11 Polish and Latina leaders – chose one of their stories to be published in a trilingual booklet, along with portraits of the authors and recommendations for public policy.
In Texas, domestic workers from Border Workers United formed a group called Las Malcriadas Fronterizas – inspired by the Las Malcriadas writers' group from the California Bay Area. They wrote stories about work, the border, migration, and family. They shared their stories for an International Women's Day event and will be releasing a print compilation soon.
In San Francisco, members of La Colectiva de Mujeres wrote, produced and acted in an original play called "Our Work, Our Dignity," sharing their stories and speaking out about the movement for domestic worker rights.
Domestic workers are leading our movement at all levels and with all strategies. And some are taking the step of owning their own cooperative business. This year, several organizations have done intensive training on cooperatives for domestic workers. And in New Mexico, the organization Encuentro has just launched a new cooperative for immigrant home care workers.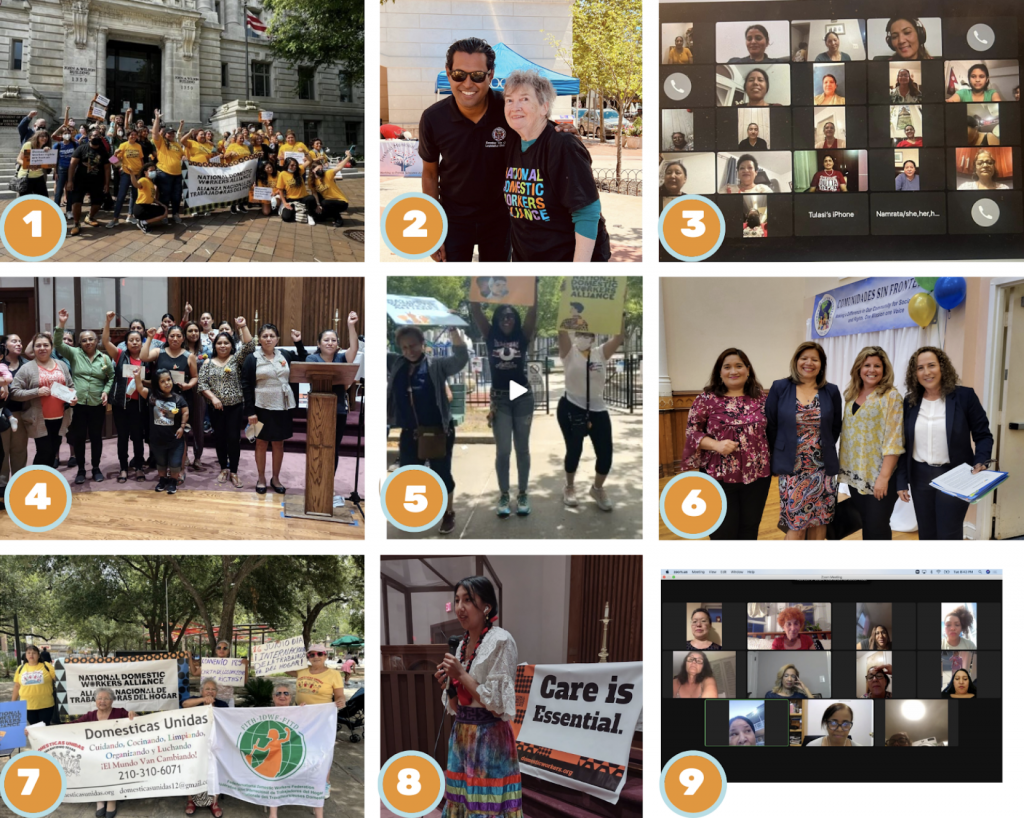 Lastly, this year we had a very successful International Domestic Workers Day, with events to train, recognize and celebrate domestic workers in 15 cities! Congratulations to all the domestic workers who have made an effort this year to grow their skills and leadership and strengthen our movement!