Join Now
Pilipino Workers Center is a community organization that aims to secure the dignity and safety of the Pilipina/o/x community in Southern California and build leaders in the domestic work and homecare industry.
Pilipino Workers Center (PWC) is an affiliate of the National Domestic Workers Alliance (NDWA), a community of nannies, house cleaners and home care workers working together to win respect and recognition for all domestic workers.
Join us to get access to NDWA member benefits, PWC programming, and help us keep winning rights and dignity.
By signing up, you agree to uphold our vision and values.* You may review this checklist of what you need to prepare when you sign up for a membership. And here are answers to Frequently Asked Questions (FAQs) about membership.
Monthly Membership

($5 per month)

Your debit, credit card, or prepaid card will be charged every month. A portion of your $5 monthly NDWA dues will go to support your access to PWC programming and will help power our work locally and nationally.

Annual Membership

($60)

Your debit, credit, or prepaid card will be charged $60 one-time for a 1-year membership. A portion of your $60 annual NDWA dues will go to support your access to PWC programming and will help power our work locally and nationally.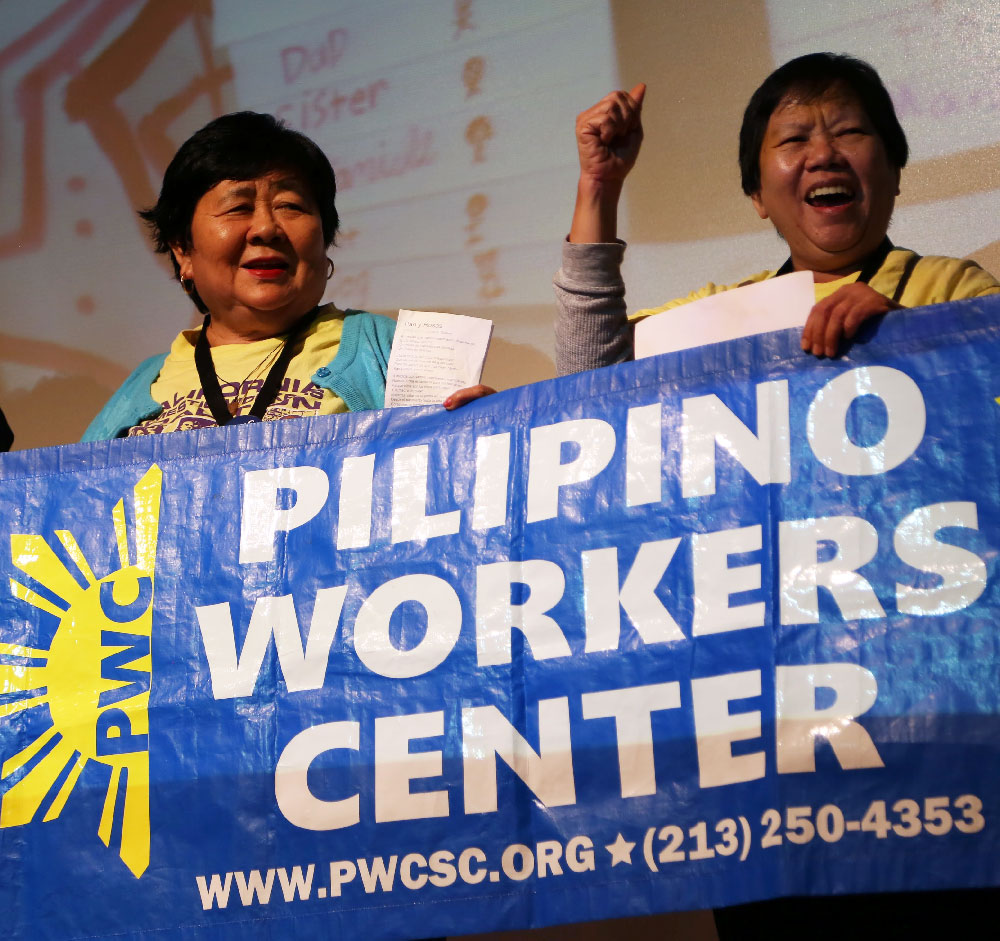 After you sign up, you'll receive a welcome from both PWC and NDWA with information on upcoming membership meetings and other opportunities for members to get involved!
To learn more about the Pilipino Worker Center: https://www.pwcsc.org.
To learn more about the National Domestic Workers Alliance: https://membership.domesticworkers.org/about/
*NDWA and PWC reserve the right to discontinue any individual's membership at any time, for any reason including failure to uphold our vision and values.
Membership Checklist
It just takes a few minutes to become an NDWA member. To sign up you will need:
✔️ An email account.

✔️ A credit card or debit card. If you don't have either of these, you can use a pre-paid card that you can purchase at a convenience store.

✔️ The name and address of the person or people you would like to name as your life insurance beneficiary.
Statement of Vision and Values
We are nannies, house cleaners and care workers. Our work is some of the most important work in the world, but often it doesn't get the respect it deserves.
At NDWA, we are working toward a beautiful vision
We are working toward a day when our work—and all work—will be fully valued and respected.
We want to make sure that children, elders and people with disabilities have the care and support that they need.
We want to bring an end to racism, sexism, classism, xenophobia, ableism, and any other attacks on our communities.
We want an economy and democracy that will work for all.
To win this vision, we must work together to build an alliance that is healthy and unified and that is able to project our collective power.
As NDWA members, we agree to uphold these values:
Shared strategy and vision. We act in a coordinated way as an alliance. We align around a shared strategy and messaging and we are unified in the ways we talk about our work to external audiences.
Shared leadership. We share our ideas, and listen respectfully to others. We support each other in taking on leadership roles, and we respect our organization's leadership structures and the people in them.
Connection and care. We work to understand one another's challenges and dreams as our own. We treat ourselves and each other with care and respect.
Respect, dignity and honesty. We're not destructive and critical of each other or our organization. We encourage dialogue and loving critique to make our organization better through conversations, transparency and accountability. We work together with our shared vision and goals in mind.
Centering the voices, vision and needs of the people most directly impacted by the intersections of racism, sexism, classism, homophobia and other forms of oppression, and working together for our collective liberation. We seek solutions that will raise us all up, leaving no one behind.
Furthermore, we agree to:
Respect decisions made by NDWA's staff and Board. Members are not directors, employees, officials or agents of NDWA.
Be truthful and ethical in all activities conducted on behalf of NDWA
Only represent NDWA to the media, ally organizations or government if we are selected and trained to do so by NDWA staff, so that we ensure common messages.
Not conduct activities in NDWA's name unless we are explicitly authorized to do so, in writing, by NDWA staff.
NDWA reserves the right to discontinue any individual's membership at any time, for any reason including failure to uphold this statement of vision and values. This document was updated February 2021